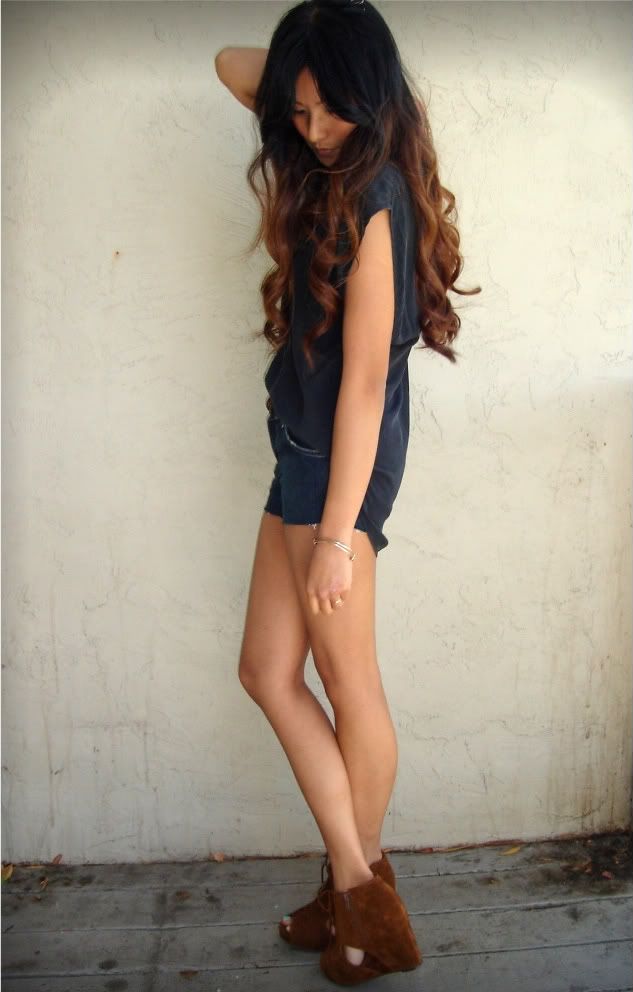 i was starting to regret not getting these shoes in black or grey instead. i thought the style of the shoes worked better in black because they're more edgy as opposed to a more natural brown wooden heeled platform. i felt brown edgy shoes were limiting. but i was running late last thursday for church and just threw anyhting on. i ended up with a grey cropped boxy top, a black high waisted skirt, black tights, a jean jacket and these shoes. as i was walking into the chapel, i was giving myself a kind of late outfit check and i started to see the shoes in a new light. lol. i really like them with black!
and to make this story even longer, these are my new favorite cut-offs. these used to be a pair a skinny jeans. i got them on ebay 2 years ago from the mother of one of the siwy models. i can't remember her name, i think it was taylor but she was given a bunch of jeans. i got a few jeans from her. i was pregnant then and i grabbed some to wear while pregnant and a couple to wear afterwards. i got them really cheap! anyway, i lost more weight than anticipated so these ended up too big for me. i cut them last week and to my disappointment. they fit so weird at the thigh-crotch area. the leg openings were too tight they made me look bow-legged. i couldn't let these go to waste so yesterday i got a little crafty and cut a bow-tie shaped piece of fabric from the leg i cut off. i took the crotch apart and sewed the bow-tie shaped piece to the crotch. it's not visible and my legs look normal. … i love them!
so that's all for now :)
enjoy the weekend!
siwy diy shorts, urban outfitters tunic top & jc mary roks